Description
Custom Signs
Custom Metal Signs are a stunning addition to any space, whether it's for business or personal use. Neon lights have the power to bring life to any room with their bright and vibrant colors. With custom design options available, businesses can create personalized signs that showcase their logos and make a memorable impression on customers.
Custom Business Signs are the perfect way to make your business glow.
How To Make Custom

 Signs
Submit Your Request and Order Deposit
Send your quote information or your idea in our form. Give us your idea request and what you want for your Led Neon signs. Our designer will make a file preview.
Get in touch with our design team to discuss your ideas and preferences. Our designer will create a digital mockup of your signs, allowing you to make any necessary adjustments before produce.
Confirm Your Metal Signs Design
Once you're satisfied with the design and confirm to next step Produce.
With free delivery worldwide, your piece will arrive after 5-10 business days after production. If you can't wait that long, choose fast delivery at checkout.
Size Guide
Size Guide
📏 How to calculate the dimension of the sign?
Notice
: Our products will be made with base square frames and the dimension of the final sign can be changed depending on the design and the shape you choose (circle, oval, rectangle, ...)
All of them will measure by
inches
.
The dimension of your sign will be counted by the largest point of your sign.
- Width for rectangle.
- Diameter for oval, etc...
Ex: Customers choose sizes 30x30 inches and 24x24 inches at the oval and rectangle.
The measurement of both signs was calculated by the largest point and just applied for 1 dimension because it is not made and comes in the square.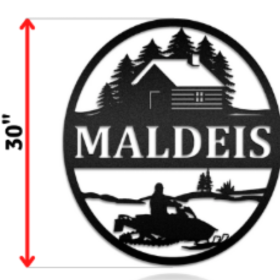 Estimate Size Preview